8D Report | Free Download of 8D Template | Format
8D Report | Free Download of 8D Template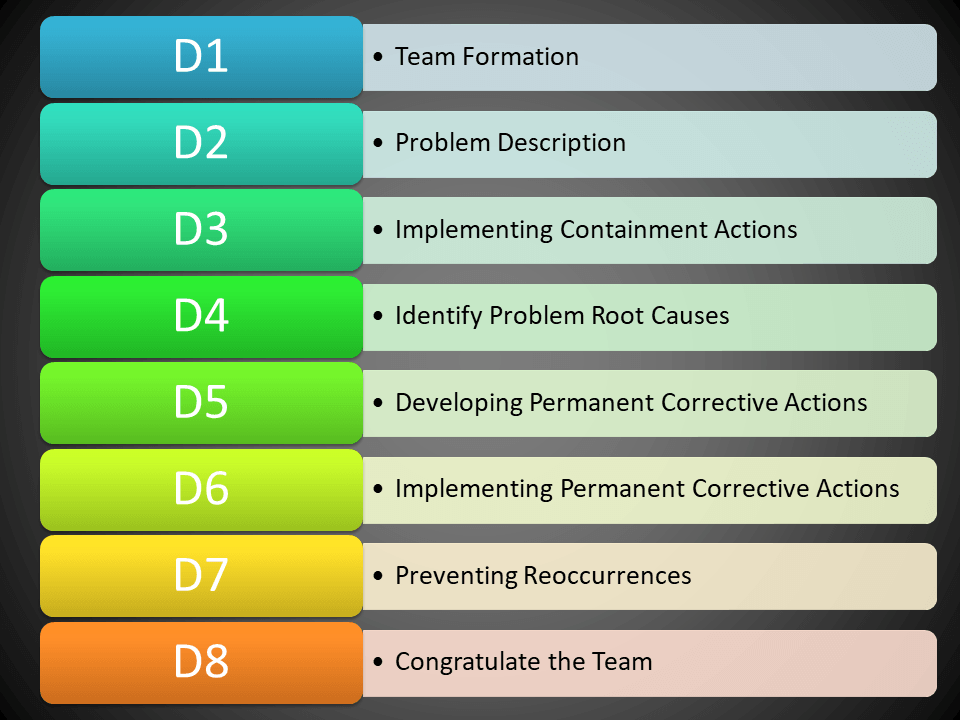 8D Report or Template is ready for you just click on Download. Here we will describe the 8D Report with Manufacturing related example.
Download 8D Report Template or Format (Word Format).

8D Report Template in Excel Format.

Download 8D Report Template in PDF.

Basic Info. Of 8D Report:
It's a Problem solving approach followed by Eight Critical Steps. This is use to provides the excellent guidelines for identify the Root cause of The Problem or Issues. Moreover, 8D approach is used to implement the solutions to prevent the recurring of problems. It was first used in automotive industry.
Generally, Customer ask to their Suppliers / Vendors / External Providers to submit the 8D Report as and when they find the Defective material at their ends as BOP, Raw Materials etc.
Eight Steps of 8D Report:
Implementing Containment Actions
Identify Problem Root Causes
Developing Permanent Corrective Actions
Implementing Permanent Corrective Actions
Preventing Re-occurrences
D1:- Team formation
Cross Functional team with multi-Skilled Members need to be selected.
D2:- Problem Description
Describe the Problem in form of 5W 2H as Who, What When, Where, why, How, and how much.
D3:- Containment actions
Temporary Action need to be implemented until a permanent solution is implemented.
D4:- Identify Problem Root Cause
After implementation of Containment Action, We have to do the Root Cause Analysis to find out the Root Cause for implementation of the permanent solution.
D5:- Developing permanent corrective actions
After getting the Root Cause of a Problem, we have to do the Why-Why analysis to find out the Possible solution. From there Permanent Corrective actions need to be selected.
D6:- Implementing permanent corrective actions
As soon as Possible, Developed Permanent Corrective Actions need to be implemented. Implementation Plan / Activity Plan / Milestone Plan will help you for better monitoring and to track the status of Activities.
D7:- Preventive Re-occurrences
Here Preventive Action needs to be taken to minimize the Reoccurrences. Doing so, a review of Management system, SOP, Control plan, FMEA, Risk Management, so that it will prevent the Reoccurrence.
D8:- Congratulating the team
Now, it's a time to congratulate the Recognize your team for the joint effort. It is the most important step among the All steps, will help you to improve the moral part of people engagement.
Useful Articles: (Download template)
Thanks for Reading…Keep Visiting Techiequality.Com