Vodafone Inactive Number Bill Payment
Vodafone Inactive Number Bill Payment:
Vodafone Inactive Number Bill Payment, Hello everyone! If you have ported your Vodafone number into other services and there is an outstanding amount bill felt to pay. Don't worry here is the solution and step by step guide that how to pay inactive Vodafone bill in online.
[Similarly, If you would like to pay a bill of Airtel Inactive Number, Then Clickhere].
Process/Methods of Vodafone Inactive Number Bill Payment:
There is many more mode of payment that you can do as,
For the Cash payment, you have to visit nearby Vodafone store to pay your outstanding bill amounts.
Debit Card Payment.
Credit card Payment
Net-Banking transfer
For the above three methods of payment, you have to pay in online mode. Beneath are the step by step guide for online payment of your Vodafone outstanding bills.
Before you pay, you have to keep the Relationship Number, you can find the relationship number from your previous Vodafone bill, alternatively, you can collect the relationship number from Vodafone customer care.
Now here is the step by step guide of Postpaid Vodafone Inactive Number Bill Payment
Step-A: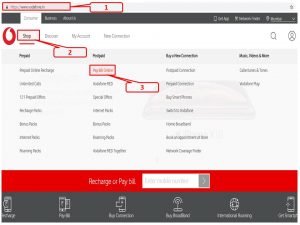 In the above figure, there are three steps (i.e. step 1 to 3), first of all, you have to open the Vodafone official website https://www.vodafone.in/ or click here.
After opening the official website of Vodafone, then you have to click on Shop (Step-2 of above figure), next to click on pay Bill Online of postpaid (step-3 of above figure).
Then move on to step-B.
Step-B:
Now you have to click on Step-4 red highlighted box, which is marked in below figure, thereafter a new page will open just follow the
Step-C to complete the online payment.
Click here to directly open the below Vodafone Postpaid Online Bill Payment page.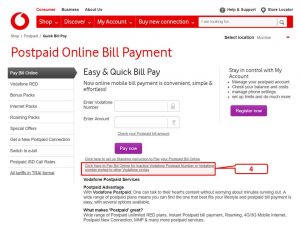 Step-C:
In Step-5 of below figure, four important data needed as the Mobile number, Relationship no. (You can find from your previous bill), Email id and Outstanding amount which you need to pay. After fill up the below data you can submit for payment, Next payment section page will open and there you can select the mode of payment as Net-banking, credit card, or Debit card option and finally after the transaction of payment your section will finish.
Click here to open the direct link of Quick Bill Pay of inactive Vodafone mobile number.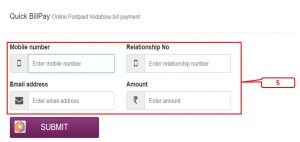 FAQ-
Q-What is Inactive Vodafone Number?
A-When you will change your Vodafone Network to other Network without changing of your Mobile Number, after successfully changing of network your Mobile number will be termed as Vodafone inactive number.
Q-What is Relationship No. of your Vodafone Mobile Number and where to find the RN?
A-Relationship Number is nothing it's a customer Id or transaction number, where your all monthly payment will transact through this number. So it's important for the postpaid Customer. Generally, Relationship number is available in you Bill Paper. If you forget your RN then you can call to customer care otherwise visit nearby Vodafone store to get back your Vodafone relationship number.
Click Here to Know the Step by step Procedure for Airtel Inactive Number Bill Payment Through Online.
You could also like to read below useful info.
Thank you for Reading…Keep Visiting Techiequality.Com